CO-OP FEDERATION ASSEMBLY 17 & 18TH JUNE 2021
Coop stories will be a feature. "The C-Mac Coop Story – What Happened" will be presented 3:30pm on the Friday at the NSW Teachers Federation Conference Centre.
BOOK LAUNCH CANCELLED
Given the increasing concern about the spread of Coronavirus COVID-19 in the community, particularly with winter flu season approaching, The University of Sydney are now asking staff to cancel or defer any event until advised otherwise. From Monday 16 March this will apply to all University events or events hosted on our campuses including student, academic and public events and conferences.
Co-operatives Research Group Event
'Swapping Desks– C-Mac Industries (Aust) Co-operative
An employee-owned co-operative'
Director at C-Mac industries (Aust) Co-operative Ltd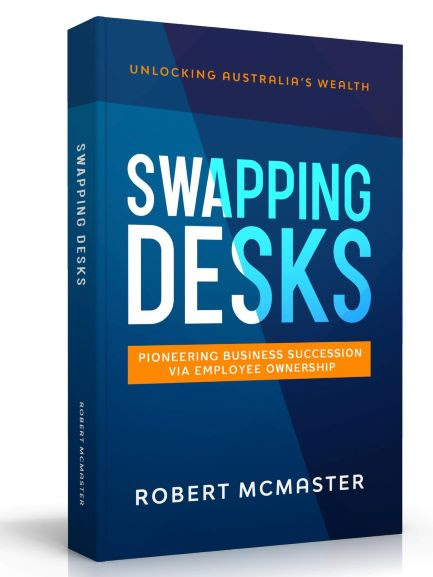 Abstract:
Robert McMaster poured his heart and soul into his father's business for 38 years, but at 54 was concerned that he lacked a successor.
Intent on early succession planning, Rob established a formal Employee Share Ownership Plan to transfer ownership of his company to his employees. Then the unthinkable; Rob experienced debilitating severe health issues just as the economy faltered and manufacturing industries struggled. The fledgling Employee Ownership plan failed, leaving no option but to liquidate the business. To his horror, Rob found that his company, turning over $5 million pa with $2.5 million in assets with 43 highly skilled staff, was valued by the open market at…. NOTHING!  Refusing to give up Rob undertook a nine-year journey that changed the lives of all who were associated with the business.
The resulting Employee-owned cooperative business structure has been hailed as a "Proof of Concept" and offers others a succession option that could make a significant difference in the lives of company owners and their employees.
Rob's ground-breaking experience has the potential to change the future succession plans and direction for individuals and business in Western Sydney and Australia!
Biography:​
Robert McMaster is the Director of C-Mac and a Business Chaplain with Greater West for Christ. Robert is now semi-retired working one day per week as a Director of C-Mac Industries (Aust) Co-operative Ltd promoting and advocating for more employee-owned cooperatives. Trained as a Toolmaker tradesman, a production engineer, then employed in the family metal manufacturing business at 27 years of age, progressing up to General Manager which he held for 27 years. Approaching retirement transitioned a family business to all its employees. This was a nine-year journey, attempting five different succession options with a lot of lessons learnt. An employee-owned cooperative being the successful outcome.
Lived and raised a family with his wife, Liz in Glossodia, located in the Hawkesbury over the past 40 years.
Retrained in Chaplaincy Pastoral Care before retiring, over time changing my identity from businessman to business chaplain. His new role as chaplain is within the Hawkesbury City Chamber of Commerce and the local business community.
Date: Thursday 26 March 2020
Time: 4.00pm-5.00pm
Venue: Room 5040 Level 5
The Abercrombie Building (H70)
The University of Sydney Business School
 
Registrations close 24 March 2020.
RSVP
Please let us know whether you will attend our event:
ENQUIRIES 
For more information please contact:
Glenn Howell
T +61 2 9351 6625
E 
[email protected]

sydney.edu.au
The University of Sydney Business School
---
"Stakeholders with an actual Stake" at Common Wealth.  



Better Enterprises will be the focus of my 15-18 minute TEDx talk
Having been on a nine-year succession journey transferring our family manufacturing business to the employees by creating an employee-owned worker cooperative, one of a hand full in Australia.  I am now advocating that an alternative model has been created successfully, making it easy for others to follow.
Saving jobs and skills in Australia and providing better sustainable businesses.